Comedian Ben Bailey drove the smash hit series "Cash Cab" (still in syndication around the world) for over 550 episodes, earning multiple Daytime Emmy Awards. In the years before becoming "the Cash Cab guy," he performed around the world, starring in two Comedy Central specials. He also released "Road Rage and Accidental Ornithology" in 2011 and "Ben Bailey: Live and Uncensored" in 2016.
Bailey has appeared on ""The Tonight Show," "The Today Show," "The Oprah Winfrey Show," "Rachel Ray" and virtually every major morning show (TV and radio) in the country. He's has appeared in numerous TV shows including "MADtv," "Tough Call with Colin Quinn," "30 Rock," "Blue Bloods," "Parenthood," "Law and Order SVU," "Perpetual Grace," "Unforgettable," "Hope & Faith," "The Knights of Prosperity" and "One life to Live," as well as several films including "Bad Parents," "Don't Shoot the Pharmacist" and "Bad Meat."
See him here on October 10 at 7 p.m.! In the meantime, catch snippets of his stand-up comedy on his YouTube channel @BenBaileyComedy!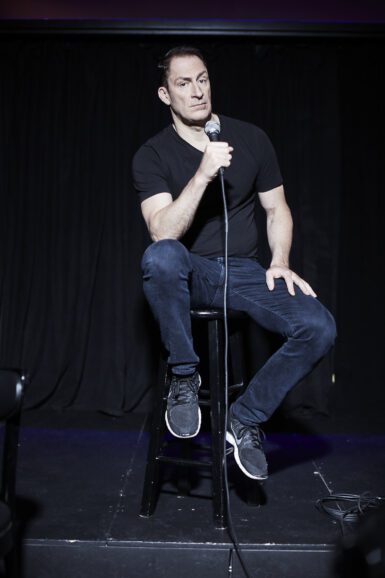 Featuring: Neil Rubenstein, Nathan Hults & Zach Dresch!
Hosted by Sara Manson
Comedian Neil Rubenstein is a burly, tattooed guy who plays against type; kind, cerebral, but still casually mentions past illegal activities (running a poker room, owning a brothel, etc.) the way one might reference a Renaissance Lit course you took in college. He took 1st Place at the 2023 World Series of Comedy Louisville Satellite and had several appearances on SiriusXM podcasts.
Nathan Hults is the epitome of "Male Pattern Boldness".  Performing since the age of 7, he has perfected his positive and high energy storytelling with quick wit and audience interaction. Never aggression always adoreable. A stand-up comedian, actor, and producer, Nathan, has performed in Auditoriums, Bars, Comedy Clubs, and Drafthouses across the country.
Zach Dresch is a comedian based out of Sioux Falls, South Dakota. He is perhaps best known as the Flu Bug on billboards and TV, as well as his work in the improv troupe Improv Falls and his role as co-host on the local talk show Late Night Boomin. Also a drummer, he plays in the bands the Disarmed and Shock Value, and combines music and comedy in the dueling pianos group Duel Purpose. He can weekly be seen hosting trivia at Fernson Downtown, and can be seen performing around the country.
Tuesday, October 10th , 2023
7:00 PM – 9:00 PM CST
Doors open at 6:30
Sioux Falls Orpheum
315 N Phillips